What is Six Sigma in Project Management?
There are many different ways to improve business processes, and you may have heard of Six Sigma methodology as one of them. But what exactly is it and can your business benefit from this methodology?
Six Sigma methodology eliminates errors and waste to improve current processes, products, or services––leading to happy customers.
So how can you align your goals within a Six Sigma framework? To help you understand how you can use it for your projects, we take a look at its:
Beginnings
Benefits
Implementations
Certifications central to this quality management methodology
Read on.
What is the Six Sigma Project Management Methodology?
Six Sigma project management methodology aims to improve processes, reduce waste and errors, and increase customer satisfaction throughout an organization. It achieves this by first identifying the cause of the error and then removing it.
Bill Smith, an engineer at Motorola, first introduced this methodology to streamline its manufacturing operations. It quickly became a buzzword in the business world and has become a widely adopted standard for businesses in various industries, including service.
Driven by data and statistical analysis, Six Sigma provides a way to reduce cost and maximize value in any business process, from manufacturing to management, all the while increasing customer satisfaction.
Why Do Companies Use Six Sigma?
Not every organization will find the Six Sigma methodology valuable for its projects. Thus, it's essential to see if the method is a good fit for your project before implementing it.
At its core, the Six Sigma methodology is all about eliminating waste, minimizing errors in an existing process, and increasing a business's overall productivity and profitability. So if you're looking at creating new processes, Six Sigma may not be the best fit.
Is your current project management methodology or process falling short? Consider using Six Sigma to revamp an inefficient process. By implementing Six Sigma, you'll be able to collect data that will help you define what's causing problems. These insights can consequently lead to drastic process improvement, increased efficiency, and improved customer satisfaction.
When it comes to waste, Six Sigma can be very useful for an organization that wants to cut down on wasted time by eliminating or streamlining extremely time-consuming activities and improving efficiency.
5 Benefits of Using Six Sigma in Project Management
1. Make data-backed decisions
The highlight of Six Sigma is data analysis. This project management methodology provides an accurate assessment of your organization's processes. Unlike other methodologies that are qualitative in nature, Six Sigma relies on scientific data. Instead of trying to guess where something went wrong, you'll have quantitative data that will allow you to make objective decisions and find the best solution or idea.
2. Increased team communication and collaboration
Six Sigma emphasizes group effort rather than individual effort. It takes the entire company's involvement to make this methodology work. Therefore, it inherently calls for better communication and collaboration between different departments. This methodology motivates the organization as a whole to see problems as opportunities. Hence, it encourages team members to strive towards achieving business objectives together instead of competing with one another.
3. Increased productivity
Six Sigma works by identifying and attacking the root of the problem and preventing it from reoccurring in the future. The methodology simultaneously optimizes the processes, allowing every team member to operate at maximum efficiency. So instead of spending time fixing problems that should have been avoided or mitigated, teams can spend more time on the things that bring the highest ROI.
4. Better quality and increased customer satisfaction
The better the quality of products and services you offer, the more satisfied your customers will be. As we've mentioned before, Six Sigma is all about reducing flaws. Once you've streamlined your processes, you can consistently provide your customers with superior quality products and services.
5. Reduced costs
Inefficient processes and poor quality products come with many expenses that drastically lower the company's revenue. It costs money (a lot of it) to make design, engineering, and management changes. With low-quality products comes low customer satisfaction that can lead to a loss of clients. Six Sigma's goal is to nip such types of mistakes before they happen.
Six Sigma Methodologies
Six Sigma has two sub-methodologies that you can use to tailor this approach to a specific project or industry. Though the goal is the same––improving processes, there are a few key differences between the two sub-methodologies.
Let's explore each further.
The DMAIC Roadmap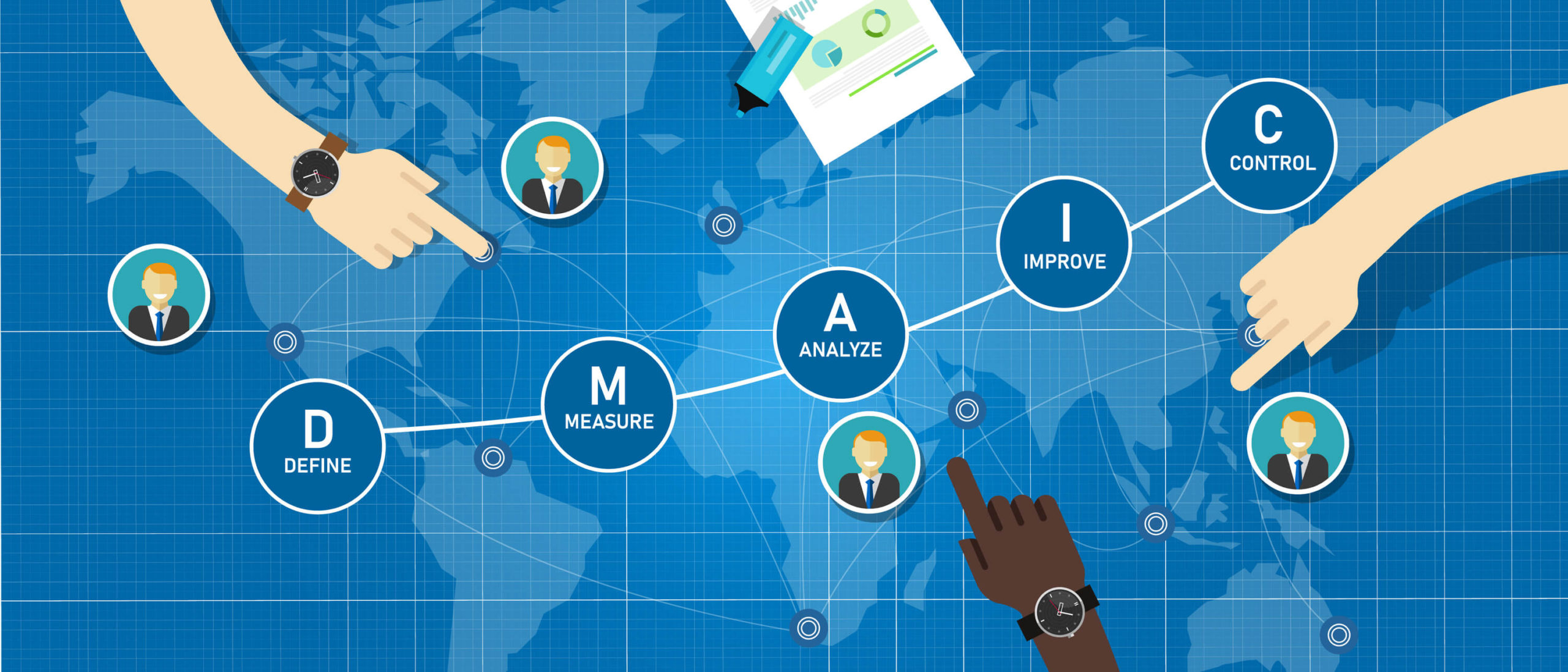 DMAIC works best for an existing business process. It includes five phases:
Define: This step involves figuring out the business problem and defining goals, setting objectives and project scope, and the timeline for completion.
Measure: Once you've figured out what the problem is and how to address it, next, you determine what will be measured and how.
Analyze: Here, you collect and analyze data to identify what is preventing the progress of the process so that you can eliminate it.
Improve: In this stage, you test and implement solutions to the problems you identified so that you can eliminate root causes and prevent them from coming up again.
Control: Monitor the improvements you make to ensure that they're sustainable. Create a control plan to assess the stability of the modifications and update it as needed.
The DMADV Framework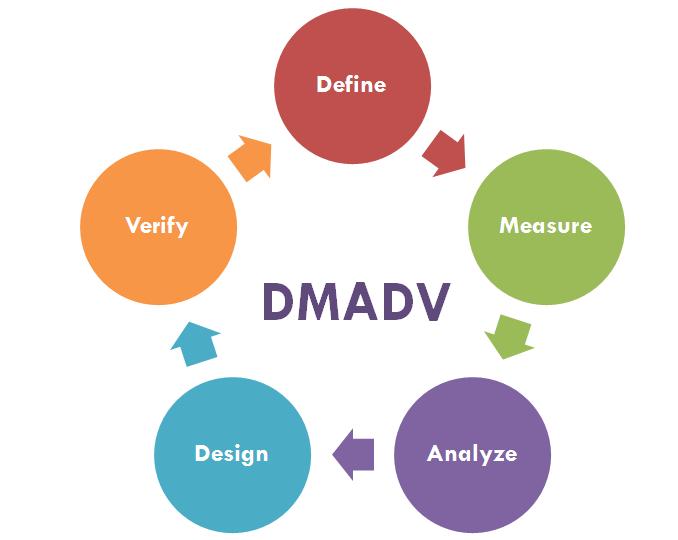 DMADV works best when creating a process that doesn't yet exist. It also includes five phases:
Define: Here, you establish your client's or customer's need and set realistic goals that will meet that need.
Measure: Next, you use data to assess those customer needs, how customers respond to a product or service, and how the product or service is performing.
Analyze: Use data collected to create new goals or designs to meet customer or client needs.
Design: Now that you know the clients' needs, create a product, service, or process to better address that need.
Verify: Finally, test the design to verify that the product, service, or process can efficiently address customer needs.
The Six Sigma Certification
While anyone can apply Six Sigma principles, getting the Six Sigma certification guarantees that you have a standard level of knowledge about this methodology.
The different levels of Six Sigma certifications are organized by belt color, like in karate, indicating varying levels of expertise and training.
Here are the different Six Sigma certification levels:
Six Sigma Belts
Champion: Champions are directly in charge of the overall Six Sigma strategy. They're the guide that helps align projects with organizational goals, keep the team focused, and remove any roadblocks during implementation. Think of Champions as what CEOs are in an organizational hierarchy.
Master Black Belt: These are the in-house authorities whose role is to teach lower belts on Six Sigma. They also manage the Six Sigma strategy. Their role is similar to that of COOs.
Black Belt: These are the most highly trained experts in Six Sigma and take charge of leading, mentoring, and coaching Six Sigma teams. Their role is similar to that of team leaders.
Green Belt: They can solve most process problems and assist Black Belt projects by collecting and analyzing data. Their role is similar to that of senior team members.
Yellow Belt: These have basic training in Six Sigma methodology and participate in Green and Black Belt projects as team members.
White Belt: They have an introductory overview of Six Sigma concepts and can only assist in simple tasks. They can be recruited as future Yellow and Green belts.
Six Sigma and Agile
Project management and Six Sigma approach business challenges from different angles. While project management provides a framework and defines project execution, Six Sigma troubleshoots various problems during execution and seeks to eliminate their root causes. Thus, Six Sigma works best in conjunction with other project management methodologies.
One of the best methods you can incorporate Six Sigma into is the Agile methodology. One of the principles of Agile is that teams should reflect on––at regular intervals––how to become more effective and to adjust its processes accordingly. For agile teams, continuous improvements are part of their process. This goes hand in hand with the primary goal of Six Sigma.
Therefore, Agile teams can benefit from Six Sigma to solve problems in their projects through qualitative data and a reliable set of problem-solving tools.
How to Apply Six Sigma to Project Management
As a project manager, you have your way of managing and seeing your projects to successful completion. Understandably, you may not require a new methodology. However, borrowing a few elements from Six Sigma's approach can improve your chances of success.
Six Sigma's effectiveness stems from its emphasis on clear organization from the start. Implementing this methodology will help you set up your projects for success from inception by ensuring that you have clearly defined team roles. This will prevent conflict and ensure your team has the proper skills to complete the project.
Project management in itself is a process that requires continuous improvement. Instead of making improvements based on assumptions, Six Sigma can provide you with reliable, scientific data that gives you proper insight into how you and your team manage projects. Such understanding will help you uncover gaps and areas for improvement.
Ready to get started? By taking elements of this proven methodology and adapting them to a project management tool such as Mission Control, you'll be better equipped to maintain consistency, streamline your processes, and achieve success across your projects.
Request a demo for a real-time view of how Mission Control can help you with your project management needs.