We walk about talking about Stage Gate Project Management – a widely used project management process that can be a great, fuss-free fit for almost any kind of project. It is most commonly used for new product development or launching software, websites and apps. 
Good project managers know that the key to a successful project starts with a good framework. 
Using a well-established project management methodology helps project leaders plan, optimize and implement various stages of a project with more efficiency.
In this guide we will discuss what the Stage Gate process is all about, the different stages involved, how it can help your product development process and most importantly, how following this methodology can make you a better project manager. Let's dive in. 
What is Stage Gate in project management?
Stage Gate, also known as Phase Gate, is a widely used project management methodology designed to guide a project from its inception to completion. If you're familiar with the Waterfall methodology, Stage Gate is similar in that it's also a linear process where one stage flows onto the next.
The basic premise behind the Stage Gate process is that a project is broken up into various phases. We discuss each stage in further detail below. Each Stage (or phase) is bookended by a Gate – hence the name. 
The gate is a review and key decision-making part of the project. It's especially useful for large projects with multiple departments and stakeholders involved. The gate is an opportunity for key stakeholders to review project progress, make decisions about the viability of the project and ultimately, decide whether or not to proceed to the next stage. 
Following the Stage Gate method helps to tame the chaos and simplify a project by breaking them down into more manageable chunks.
The phases of the Stage Gate process
Typically, when projects follow the Stage Gate process, they're broken up into five stages. For best results, this is usually preceded by a robust ideation stage.
Stage 0: Ideation
The very first stage of any project is ideation. This is the brainstorming phase where key stakeholders get together to develop the initial ideas for the project. This stage can involve in-house as well as outside expertise and perspectives.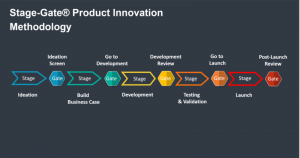 Stage 1: Scope
With the product or new business idea in mind, we now move on to the first stage of the project – Scoping – where teams will determine the project's viability. Stakeholders will carry out a SWOT analysis to get a true picture of the strengths and weaknesses of the project.
Stage 2: Design
This stage builds upon Stage 1 by carrying out further research that leads to a Business Case. The Business Case will include a product and/or project definition, why it needs to be built as well as the proposed development plan.
Stage 3: Develop
This is where all major stakeholders and organisational departments get involved.
The actual design and development of the product begin here. The end goal? Arrive at a product prototype by the end of this stage.
Stage 4: Scale
With the prototype ready, this stage involves testing and trialling the product in the market. Often this involves testing the product in small control groups to get feedback. This is the quality assurance phase of the project.  This testing will help to iron out bugs, make edits and apply final touches.
Stage 5: Launch
This is where the product finally makes it to market. All bugs have been ironed out, everything has been tested and stakeholders have signed off for the product to see the light of day.
Between each of these stages, don't forget the gates i.e. the review and decision making checkpoints. At each of these stages, the possible decisions that can be given are: go (go ahead), kill (must end), hold (on the backburner), and recycle (needs further work before moving ahead). 
Once the product has launched, it's time for the project and/or product managers to review the Stage Gate process and whether or not it was successfully implemented. Consider successes as well as failures. Look out for what worked and what could be improved for next time.
Why use Stage Gate process for product development
So the question is – what is so great about StageGate and why should you use this process for product development at your organization?
Adaptable


From software development to healthcare products, internal process overhauls to even a space rocket launch (if you wish) – Stage Gate is easily adaptable to almost any kind of project, for any business.

Structured


If you like a clear, well-defined project path to product development, Stage Gate is perfect. It takes away the chaos and provides a clear structure for all project stakeholders to view and follow.

Straightforward


Unlike some other project methodologies, The Stage Gate process doesn't involve complex concepts or terminology. The process is natural and fairly intuitive, logical and straightforward making it easier to get multiple departments on board. 

Risk-averse


New product development can be a risky undertaking for an organization. With its gated approach, Stage Gate is naturally risk-averse. At every stage of the project, stakeholders review and provide feedback to ensure all necessary adjustments are made before moving on to the next phase, thus mitigating the risk of developing a poor-quality product or even a budget blowout. 
How to integrate Agile with Stage Gate
While there is no doubt Stage Gate is an excellent methodology choice for long term project planning and management, we also empathise that sometimes organisations will need a more flexible approach as well. In such a scenario, it may be worth considering integrating agile methodologies within the Stage Gate process.
An Agile Stage Gate approach would involve shorter Stages i.e. Sprints with tangible deliverables at the end of each stage. At the end of each Sprint, key stakeholders will review, provide feedback and approve so that the project can move on to the next Sprint stage. 
The key difference here is that Agile Stage Gate takes a much more structured approach than the traditional Agile approach. This focused approach can help accelerate product innovation and development as it allows teams to test and validate assumptions in real-time.  
If you're not quite sure how to implement this yourself, a tool like Mission Control can be especially useful. Mission Control can visualize your entire project in a centralised dashboard and can easily adapt to whatever project management methodology you choose – even a hybrid Agile Stage Gate process.
How Stage Gate®makes you a better project manager
Why should you – the project manager – consider making use of the Stage Gate® methodology? Simply put, it makes you a better project management
More efficient
Since the project's viability is reviewed at every gate, Stage Gate® ensures a project only continues if it remains viable. This allows you to more effectively manage your resources – including your time – and allocate them elsewhere if necessary. In conjunction with Mission Control's Timesheets this will aid in developing more efficient, successful projects.
Due to its structured and staged approach, projects are less likely to go off-rail. With all the checks and balances in place, this means, all concerns are raised before a project reaches the failure stage. As a project manager, what's better than a successful project?
More alignment
At the review (gate) phases of the project, it's your role as a project manager to ensure the project continues to meet its business rationale. By following Stage Gate, you can ensure the project goals are always aligned with the overarching objectives and goals for the business. 
Next steps
Stage Gate acts as a single hive mind for your entire team. Its straightforward and structured approach eliminates unplanned changes and keeps your project moving towards its launch goal. We hope this article helped answer the question "what is Stage Gate in Project Management". 
Ready to get started? While straightforward, implementing can be a lengthy undertaking without the right support. Forget about the clunky, outdated tools. Making use of a tool like Mission Control can help you streamline your project management from start to finish. 
Powered by Salesforce, Mission Control can adapt to any style of project management methodology, including but not limited to the Stage Gate process. 
Request a demo to see how Mission Control can help your organisation with your project management needs.