Project status updates help keep your clients in the loop and, in return, improve transparency and build trust.
While there are many ways to send out status updates, one of the most effective (and time-saving) ways Mission Control users can do it is by making use of the Customer Read-Only page. This is a unique page that looks much like a website, that you can populate with your status reports and update as needed.
The Customer Read-Only Page is a dedicated feature on Mission Control designed to offer your clients a quick view of the entire project.
What is the Customer Read-Only Page Feature in Mission Control?
Mission Control's 'Read-Only' page is a feature that allows you to create a unique link for your customers. With this link, customers can access a read-only (i.e. they can't make any edits), real-time view of the project instead of navigating different tabs on your Mission Control dashboard.
You can add any of these tabs to your Read-Only page depending on your project needs:
Overview
Gantt Chart
Kanban
Time Logs
Risks
Issues
Change Requests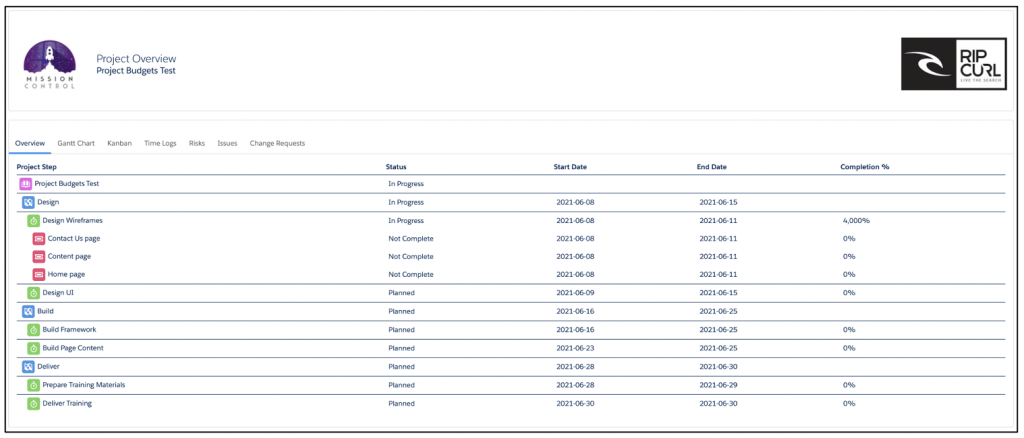 Setting up a read-only page
To access the Read-Only feature, you must be an Enterprise and upwards customer. First, configure a Force.com site and then create a Site Guest User. This Site Guest User will require a Mission Control license.
How to make the most of the Customer Read Only Page
When you create a customer read-only page, you want it to be as informative as possible so that your clients can fully understand what's going on with the project. Here are a few things you can add to your page to make it worthwhile.
Customize your page with your own branding
Personalize your customer's page by adding branding they can identify with. You can display your logo and your customer's logo.
Summarize your project with an Overview
If you're at the planning stage of your project, creating a dedicated page that summarizes your project is an excellent way to convince senior management of the project's viability. Use this page to clearly articulate the project's goals and objectives, so management can understand what you're planning to achieve. Also, include a bulleted list of the top benefits that the project will bring to the organization.
Outline deliverables and milestones on a Gantt Chart
Give your client an instant snapshot of where the project is currently at and what's coming up with a Gantt chart. This interactive chart lets your customer visualize the entire project timeline and get a clear view of each task's start and end dates. They'll also get a clear idea of your deliverables, the scope, and how long each one will take to accomplish.
Visualize tasks and processes with a Kanban Board
There's no better way to explain your workflow to your client than in a visual manner. Good old spreadsheets may be overwhelming, but a Kanban board allows the client to view your workflow as if it were stuck to a whiteboard in their office. The graphical capabilities of the Kanban board enable the client to understand your processes better and see tasks in order of priority.
Track project timelines with Time Logs
Make your clients aware of where effort and time are going by adding time logs to your client read-only page. Time logs show the number of hours assigned and those utilized in work. This is an excellent way for you, your team members, and your clients to track project timelines.
You can also use time logs to break down a project's cost estimate. You can also generate cost estimates for your clients by estimating how long tasks will take. This makes it easier for clients to approve budgets.
De-escalates risks with a Risk Log
Are you facing issues that may negatively affect the project and cause you to go over budget or delay its delivery? Clients need to be aware of these issues to find ways to mitigate them. Record these issues in a risk log and add it to your client's read-only page. A risk log also helps you sort risks by category to make it easier to monitor them and understand how they impact your project.
You can also use the log to show your clients the risk responses you used to mitigate the effects of risks on your project.
Track project change requests with a Request Log
It's easy for clients to lose track of the changes (especially the small ones) they request mid-project. Keep track of all alterations made to the project scope with a request log. Having a documented record of changes ensures that all requests are reviewed, estimated, and approved.
Conclusion
Offering your customers a project status update in a non-technical way helps them quickly stay informed about what has been completed (and what hasn't)—which is a crucial aspect of any project.
With our Customer Read-Only Page feature, you can quickly put together easy-to-understand project status updates that keep your clients apprised of your project's progress—at every phase.
Contact us today to learn more about Mission Control's Customer Read-Only Page feature and how it can help keep clients updated.